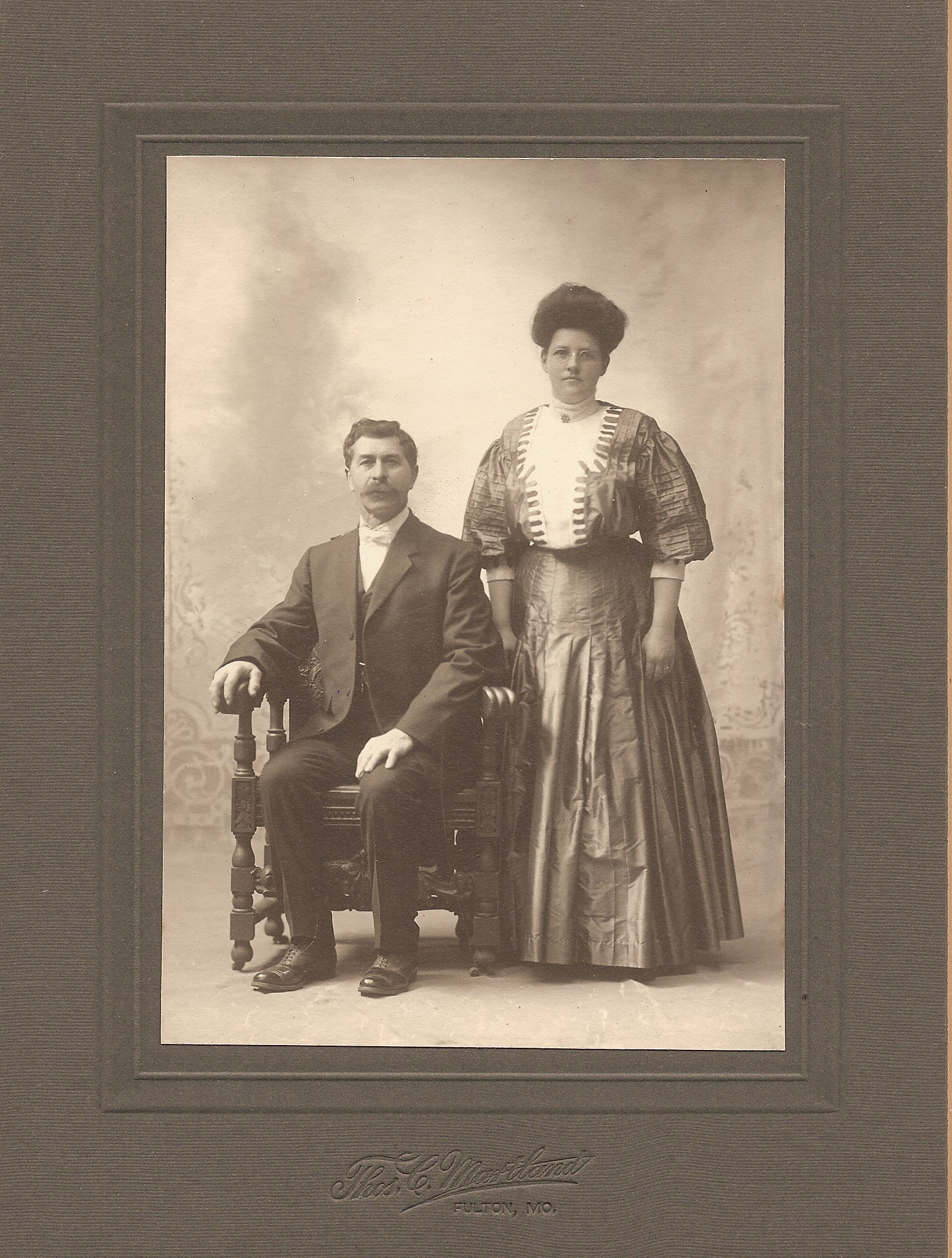 Wedding Photo of Christian and Carrie Hofmann
No one in my immediate family ever knew much about CC Hofmann. He was never talked about and only my father actually knew him. My father didn't talk about much at all, and certainly never about his family.

Christian lived at 915 Jefferson Street, Fulton Missouri. After his death in 1927 his widow Carrie Ulrich Hofmann lived at the same address until her death. Christian died of a heart attack at age 69 on February 1, 1927, leaving a rather young widow named Carrie who became "Grandma Hofmann" to all of us here in Texas. She lived in Fulton, Missouri and never traveled farther than the corner Church. I saw her twice in my lifetime that I can remember, both times at a Thanksgiving celebration in Fulton with Aunt Susie, Mildred and Maynard, and possibly others that I paid no attention to at the time and consequently do not remember.

In 2009 I digitized all of the old family photos I have inherited and am trying to organize them into as much of a family history as possible. I certainly wish I had paid more attention to all of this when I was growing up, but my father spoke very little of his family. To be more accurate, he never spoke at all of his family. He was 18 when CC died.
A Brief Chronology of Christian Cristopher
Born April 1857 in Bern, Switzerland
Arrived in America (California, Mo) 1879 at age 22
Moved to Fulton two years later (1881)
Married Sophia Meyers of Portland 1887
Owned and operated a dairy business for 25 years until 1906.
Started Fulton's first taxi service in 1906.
Married Carrie Ulrich of Fulton on October 30, 1907 at the home of the bride's father (Daniel Ulrich), northwest of Fulton by the Rev. J. C. Carson.
My father, Dan Raymond, born 1908.
Died February 1, 1927 in Fulton.

For most of this time, Christian and Carrie lived at 915 Jefferson street. Carrie continued in the house after Christian died until her death. My mother and father lived with Carrie for a while after their marriage.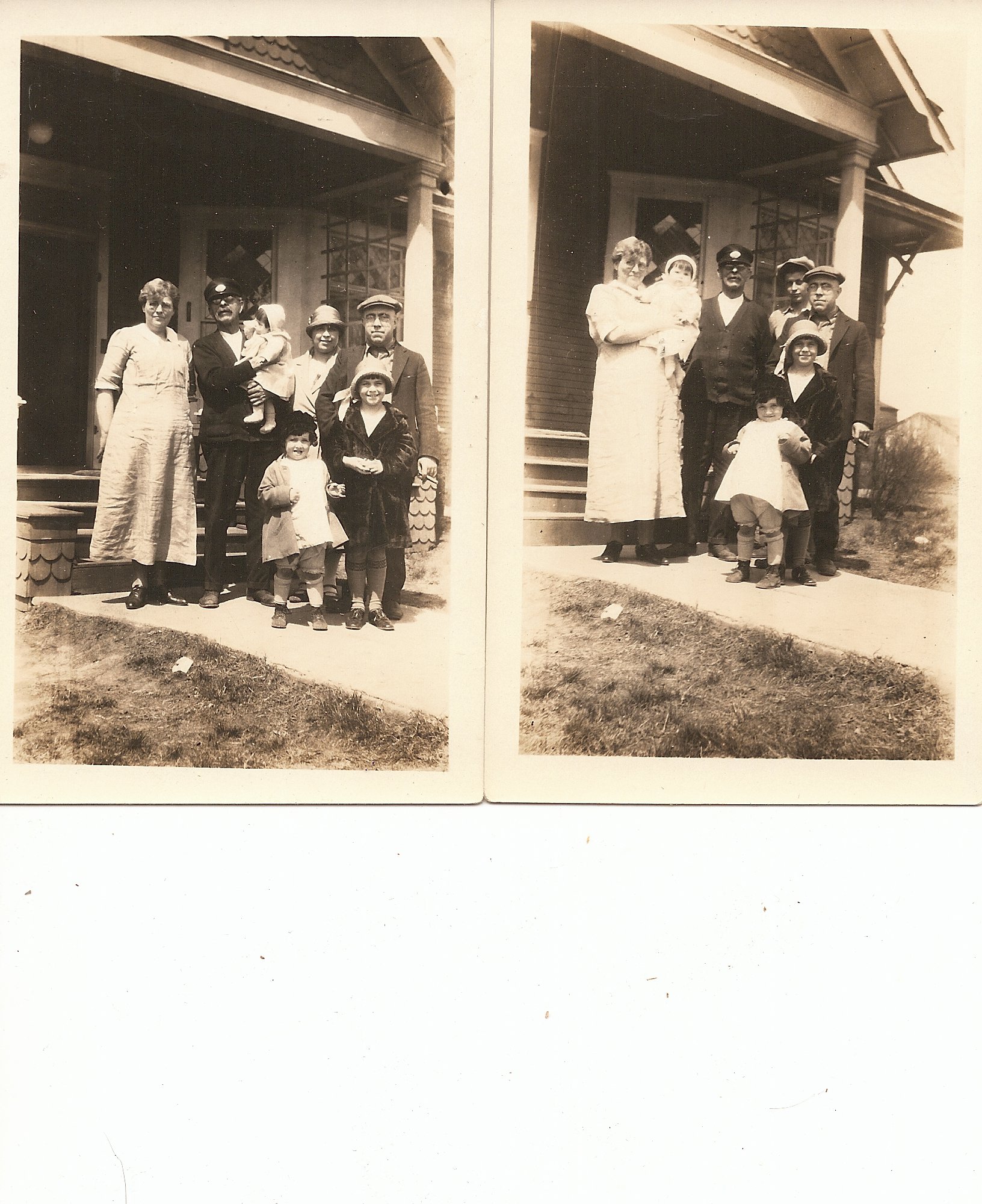 Christian Hofmann's Family. Photo dates from (I think) 1926 or thereabouts.
A lot of these people are unidentified. Christian is pictured in his chauffeur's hat and badge with Carrie, my grandmother, but the others are guesses.

One guess is that the gentleman with the cigar is Harvy Hofmann. The woman with the children would then be Antonia, and the lad in the newsboy cap in the second picture my dad, Dan Hofmann. "Antonia" and "Harvey" do have a family resemblance and could be brother and sister. Just as likely, the gentleman with the cigar is Antonia's husband. Makes the little girl more reasonable. I like the second guess better, myself.

I have no idea who the baby is.

Harvey and Antonia were Christian's children by a previous marriage to Sophia Meyers of Portland (The one in the Kingdom of Callaway, not either of those other ones.)

This is the only photo I have of the people in the photo other than Carrie and Christian.
Obituary
Scans 12071600.JPG, 12071601.JPG.
Christian died in 1927. We can learn a lot from his obituary. Here is a copy typed from the original clipping. Copies of the clipping are much harder to read, but a scan of the clipping is included.
Fulton VOLUME 89
---
CHRIS. C. HOFFMAN DIES AT THE WHEEL
---
FULTON'S OLDEST TAXI DRIVER STRICKEN WHILE DRIVING HIS CAR TUESDAY
---
HAD TWO PASSENGERS IN CAR
---
Miss Betty Baker Saves Car From Going Over an Embankment Near Bridge on No. 15
---
Christopher C. Hoffman, well known taximan of Fulton, fell dead at the wheel of his car about 8:30 o'clock, Tuesday morning, Feb. 1, 1927 while making his daily trip to take the children to the kindergarten at Synodical College.

Mr. Hoffman was returning from Forest Park, in the north part of Fulton, with one child and Miss Elizabeth Baker in the car. He was stricken and fell over and Miss Baker who was in the front seat grasped the wheel in time to save the car going over an embankment near the bridge. She was unable to reach the foot brake and the emergency brake failed to hold. Earl Brown, at the new filling station near the city limits, jumped into the car and assisted Miss Baker in stopping the machine. Mr. Hoffman had expired before he could be taken to his home at Tenth and Jefferson streets.

The deceased would have been 70 years of age in April. He was born April 10, 1857 at Berne, Switzerland and was a son of the late Christian and Annie Wenger Hoffman. At the age of 22, he came to America, with a cousin Fritz Hoffman, and they made their home at California, Mo., for about two years, when he came to Fulton.

For 25 years, Mr. Hoffman was engaged in the dairy business here. Sixteen years ago, he began operating a taxi line, said to be the first in this city. Since being in America Mr. Hoffman had made one trip back to his native country, but had been talking over plans for a second trip this summer.

Mr. Hoffman's first marriage was to Miss Sophia Meyers, of Portland, about 40 years ago. To this union was born two children, Harvey Hoffman, of Sioux City, Ia., and Mrs. T. A. O'Conner, of Topeka, Kan. Mrs. Hoffman has since passed away and in 1907, Mr. Hoffman was married to Miss Carie Ulrich, of Fulton, who survives him. One son, Dan, was born to this union.

Mr. Hoffman also leaves two sisters, in Switzerland, and one in America and one brother in Switzerland, to mourn his passing. Three cousins, Charlie and John Hoffman and Miss Ella Hoffman , of Auxvasse, also survive.

Mr. Hoffman was a member of the Evangelical Church of Fulton.
---